Warning: If you carry hamsters or any other small rodents in your purse do not read on. You will only be offended, and that is not what we are here for folks.
I'm not quite 30 years old, but I think I've heard it all.
While reading some random  passage in class today, I commented on how strange it was that the main character had 5 hamsters in her purse. One student looked really offended as I said this.
Me: What is wrong lil Susie?
lil Susie: It's not strange to carry hamsters in your purse. My aunt carries four around with her all the time.
Me: SHUT THE FRONT DOOR (ok, I didn't really say that- but my face did)  Really? In her purse? All the time? WOW, I had no idea people did that. I guess it makes more sense than carrying a dog around…it would be easier to conceal.
lil Susie: Yeah, they only make noise when they are fighting over food.
Me: (I think I'm going to throw up) That is really fun.
The minute I got home I had to google that nonsense. Do they really make hamster purses?
Here is what I found:
Not quite a purse…more of a logical way to transport one of these lil dudes.
This seems more like what we are talking about…I doubt ATT insurance will cover "water damage" to your cell phone when it smells like hamster wee.
This is a bit more fashionable.
Oh wait that is a Chihuahua!
If I put Sherman in one of these things I would break a hip.
A hamster however, I could handle!
While we are carrying around hamsters, why not bring along the goldfish!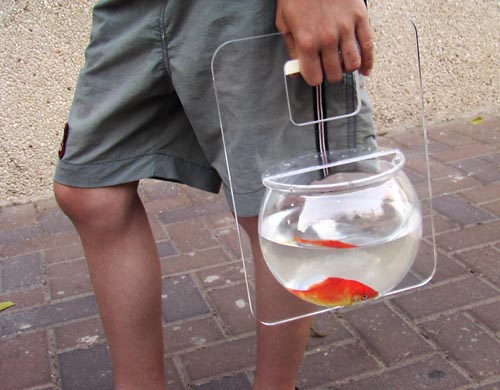 Personally, I'd rather hang out at Starbucks with a couple of these lil guys.
What is the crazy pet story you've ever heard.  I admit, the Sherms used to have a doggy car seat (when I drove a car) so he could see out the windows, and not jump out and get run over. That isn't that cray cray…right?